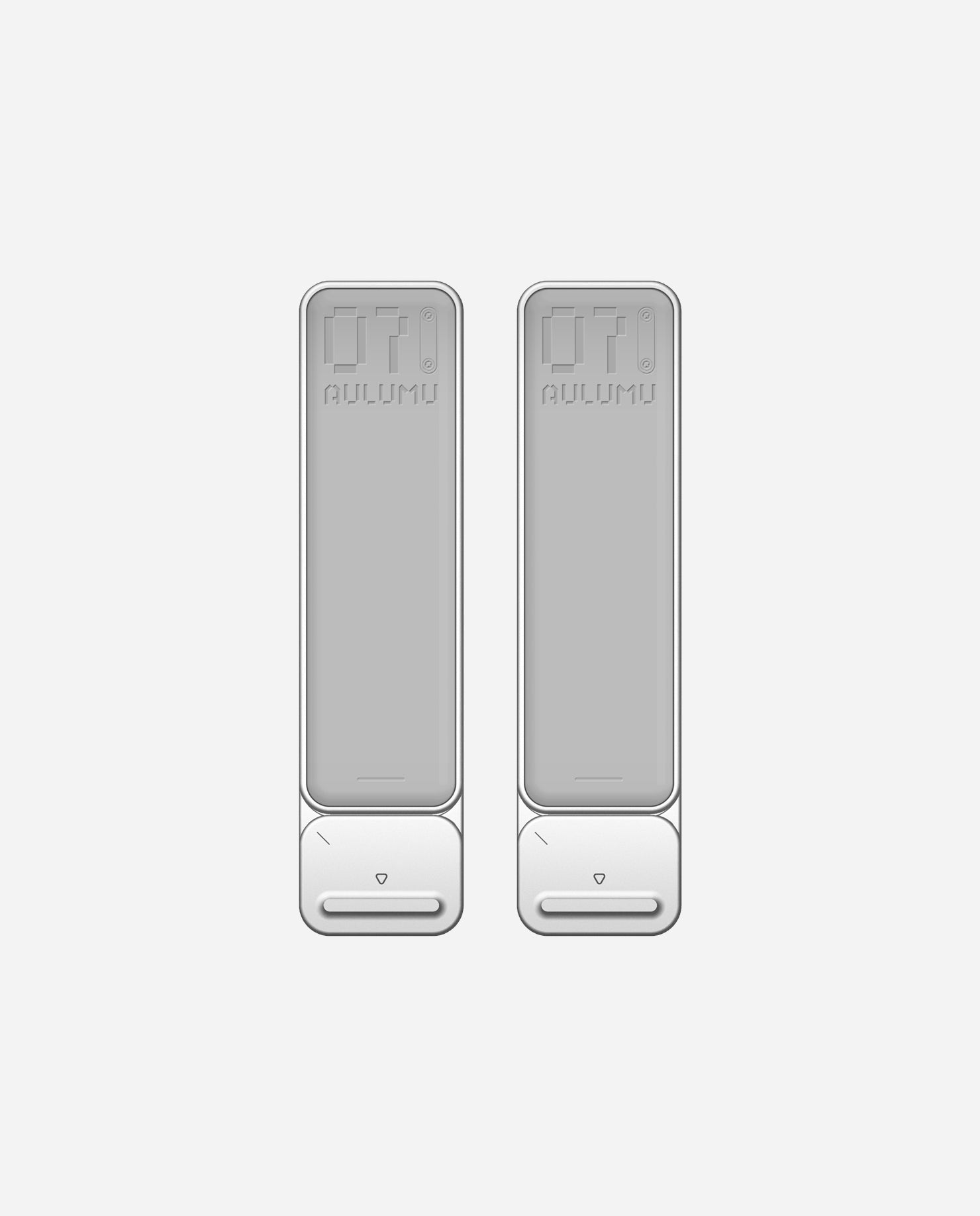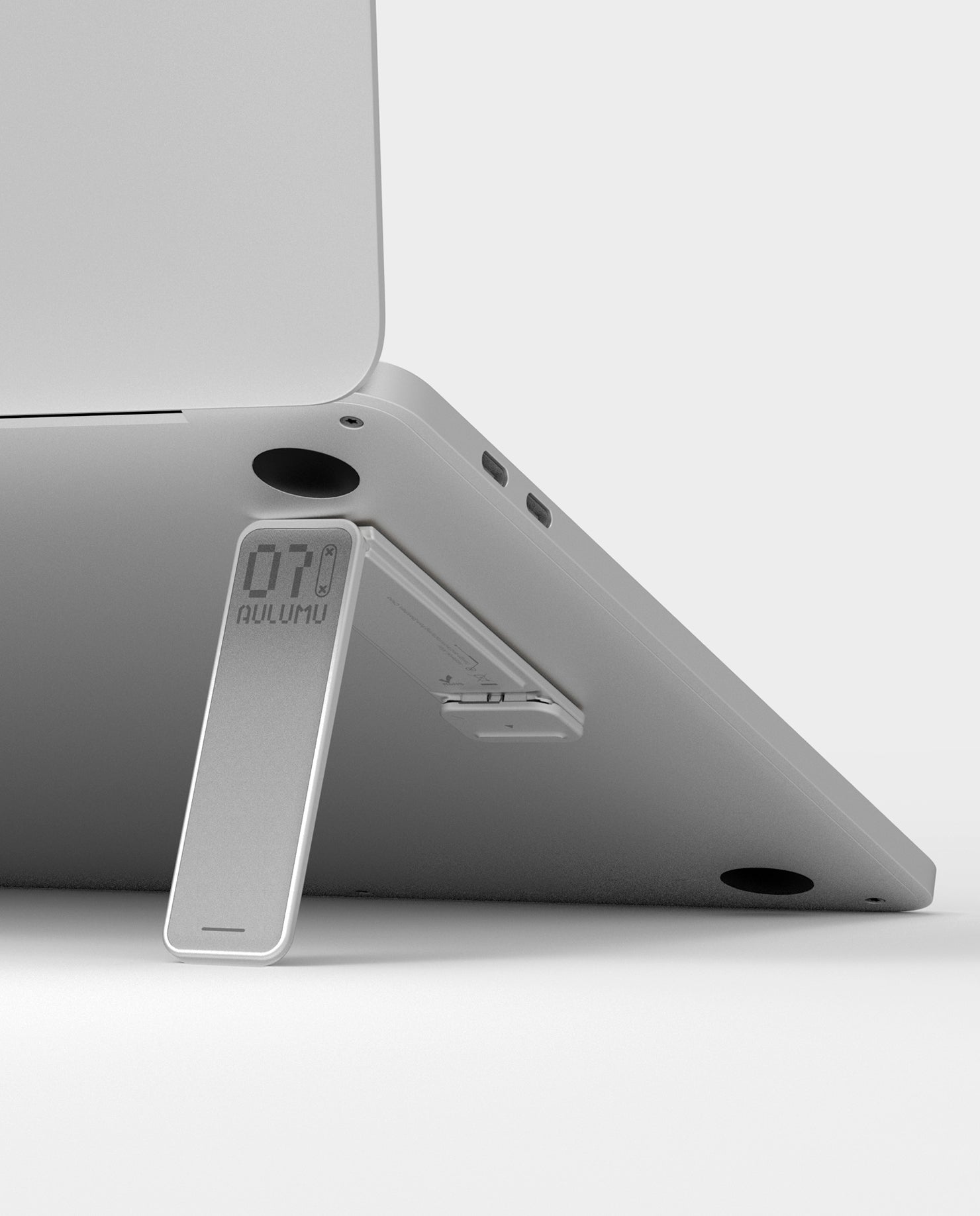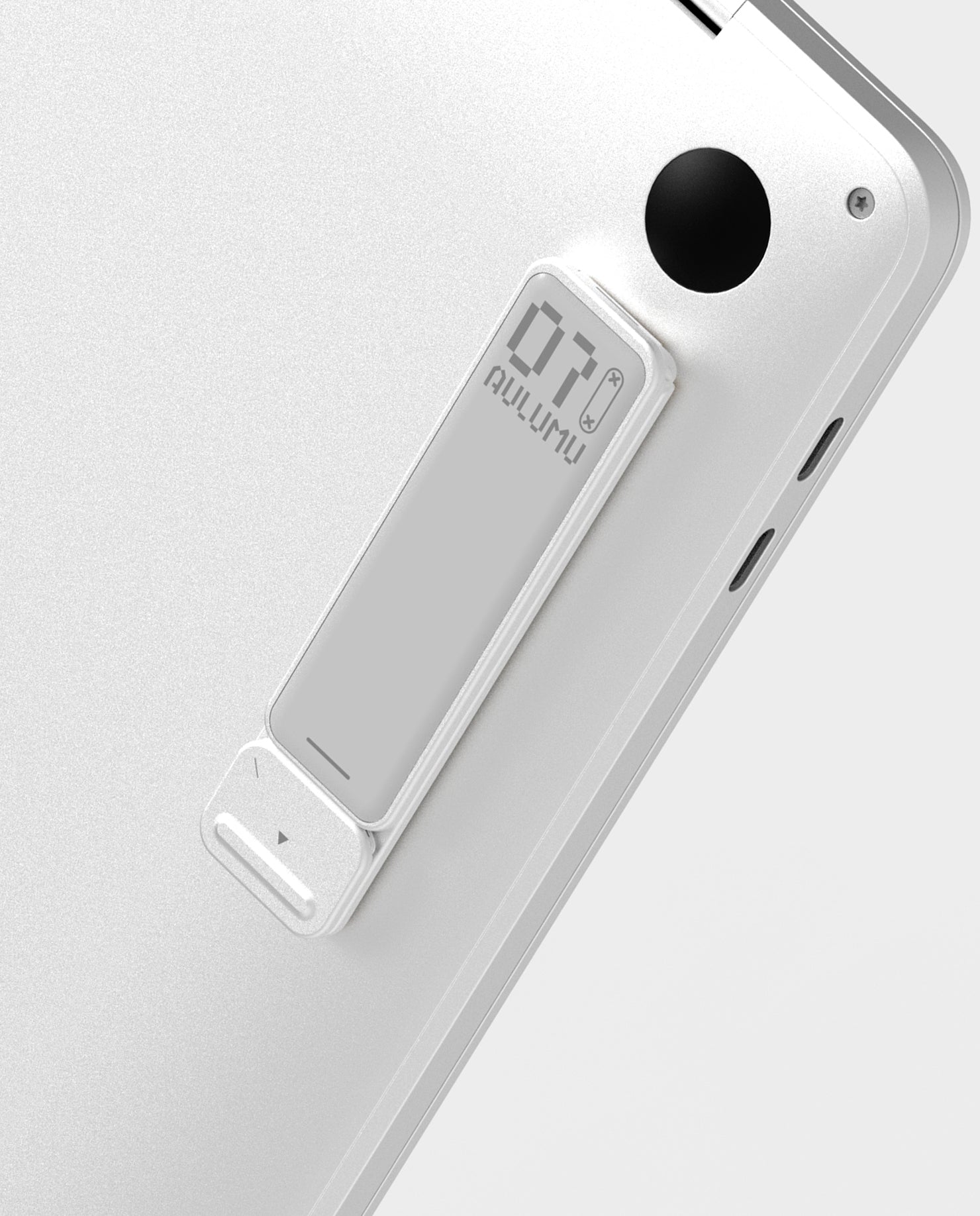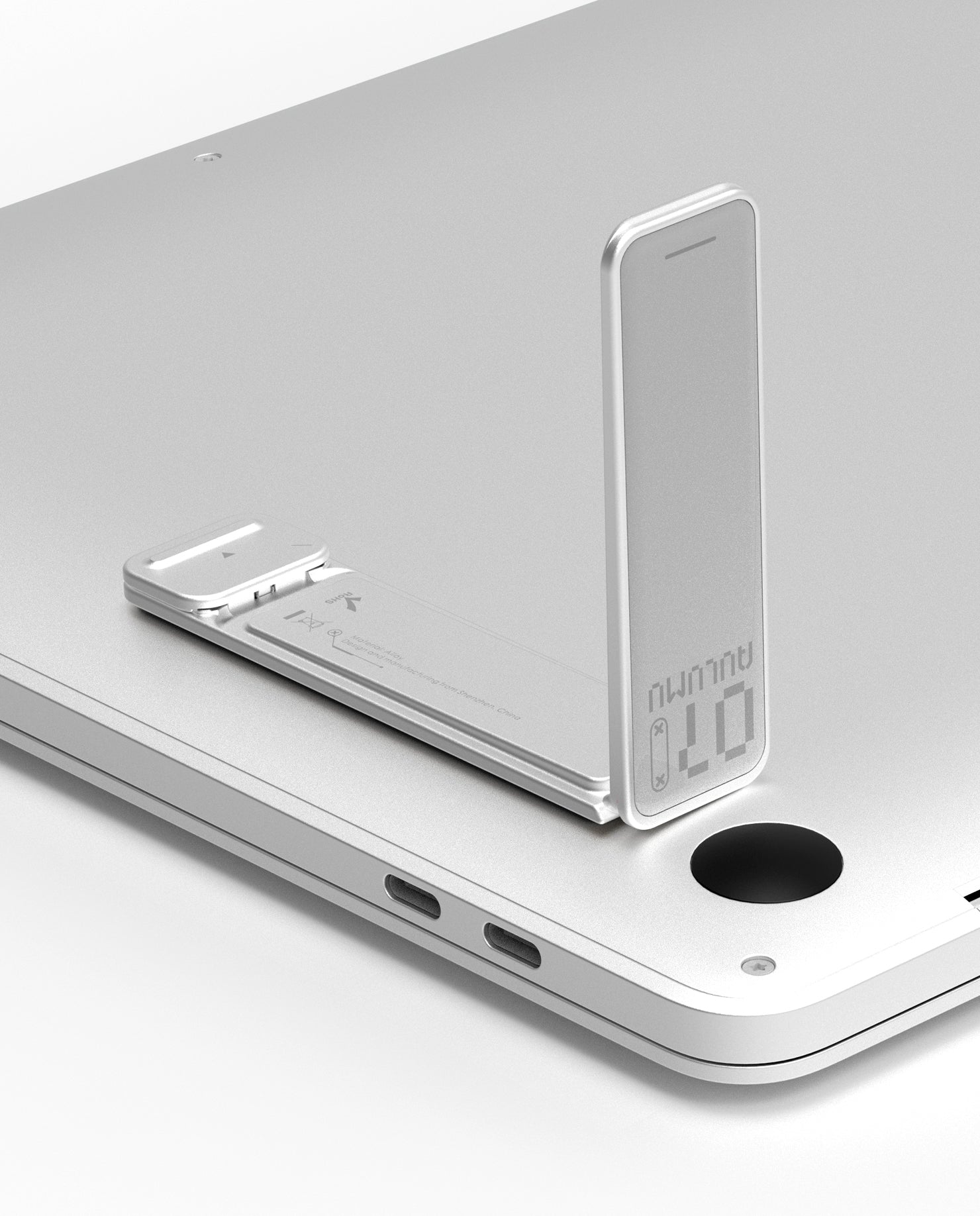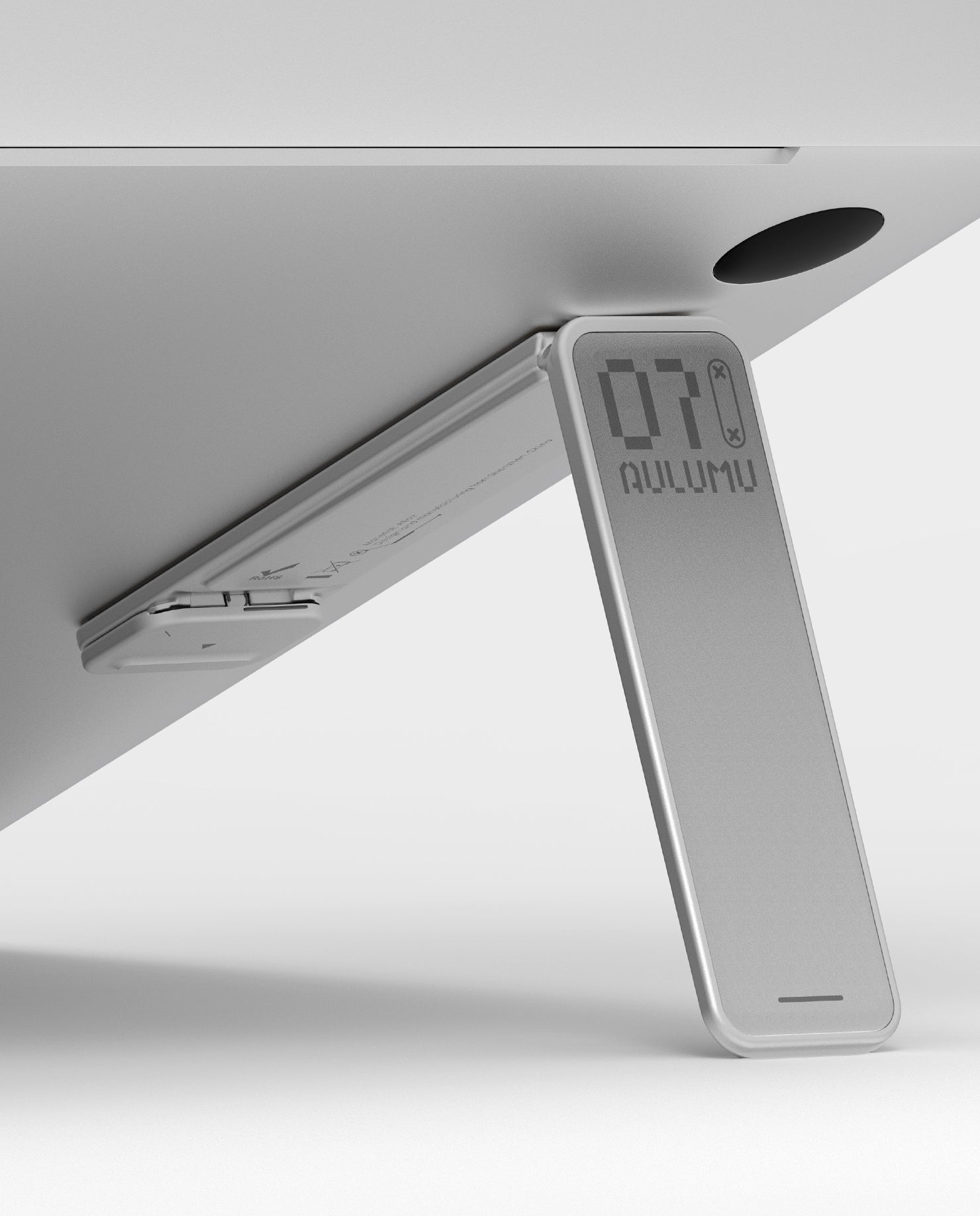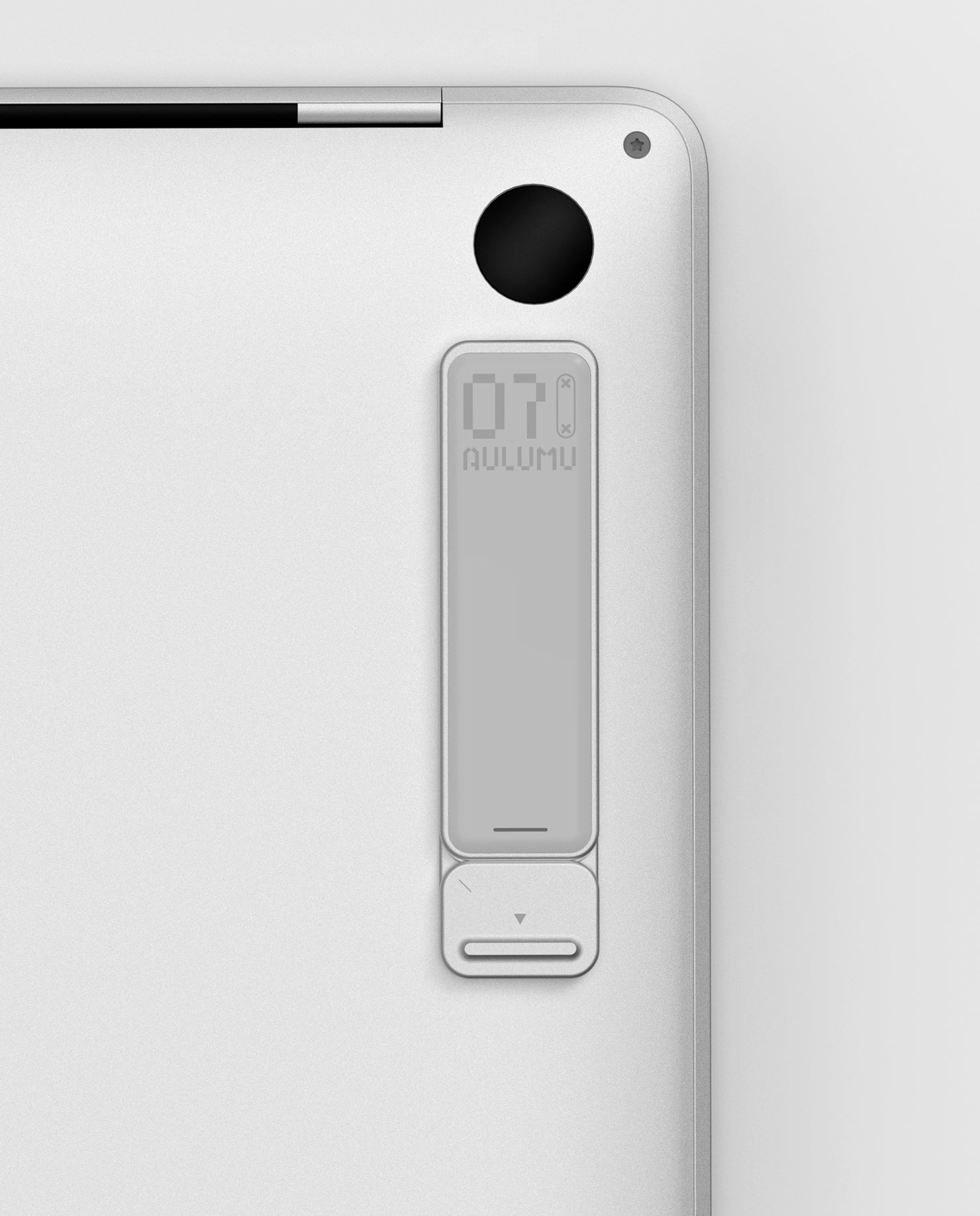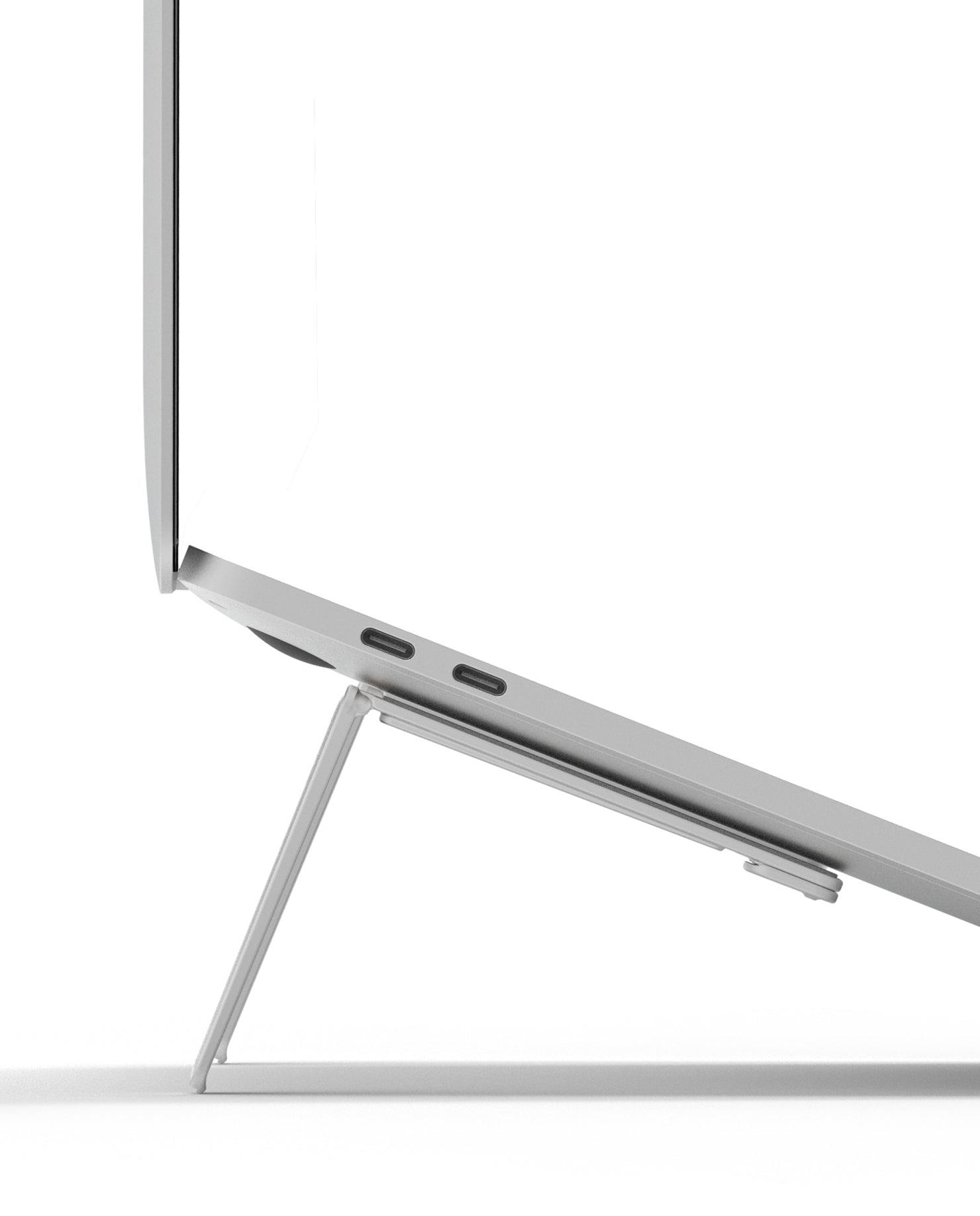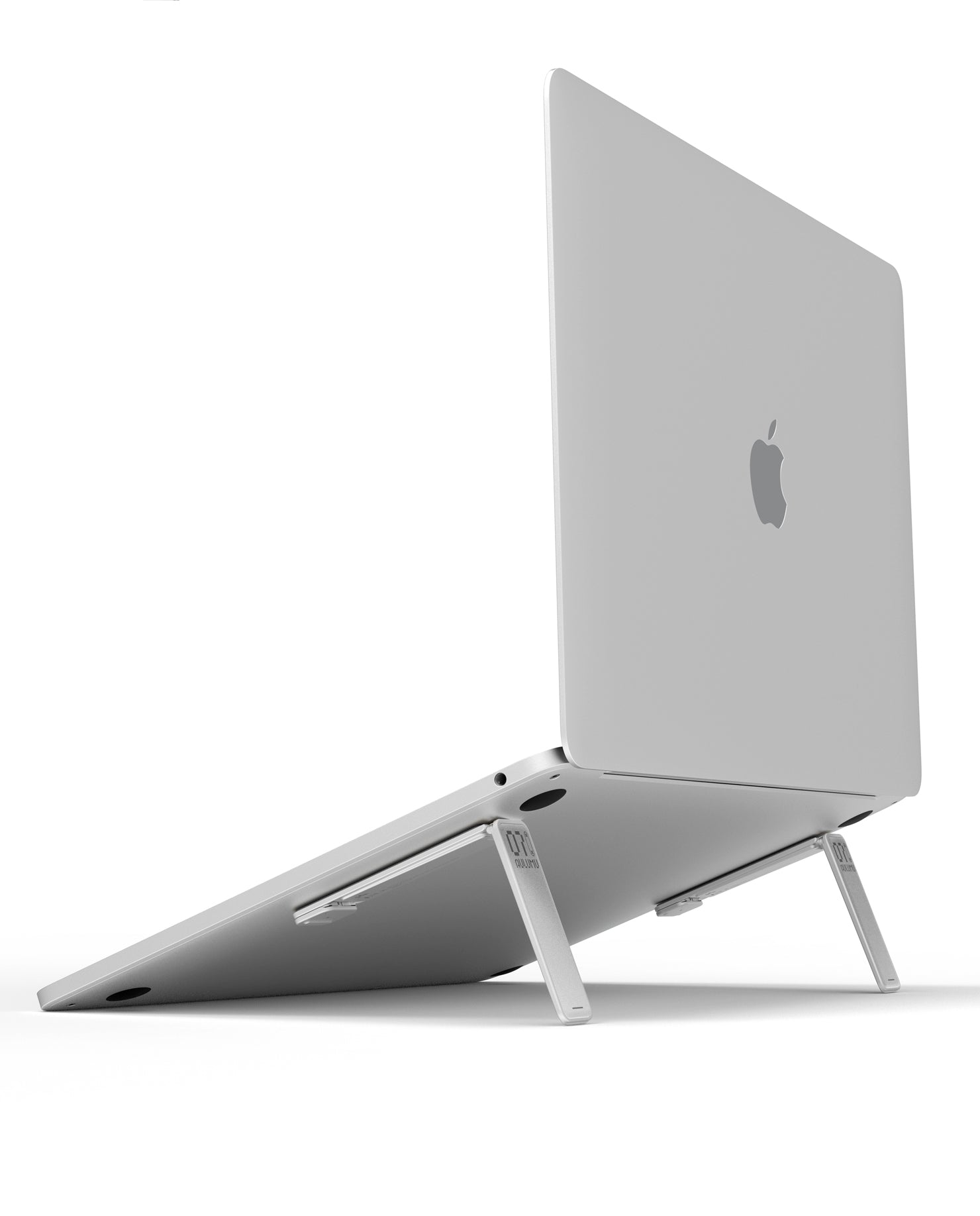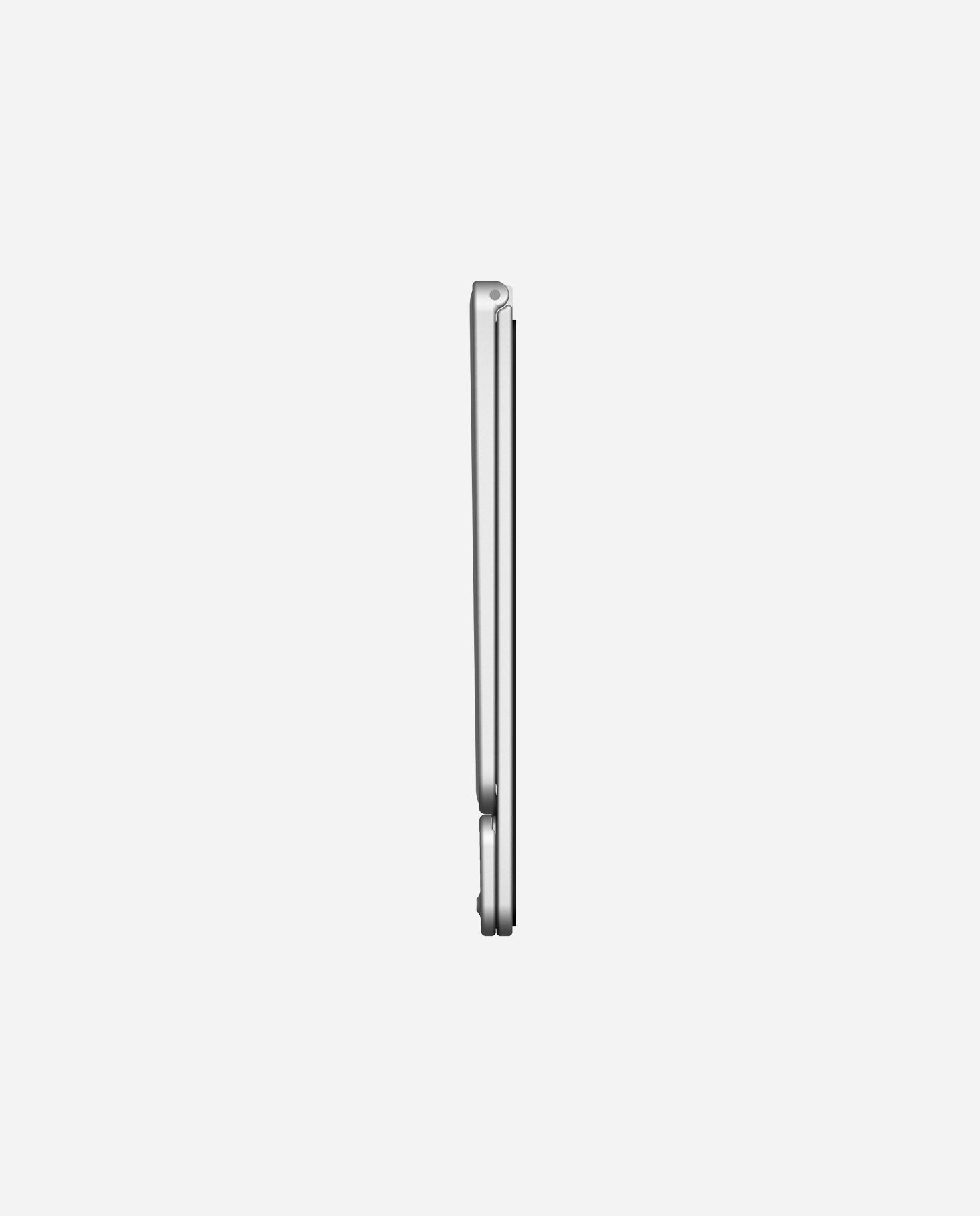 G07 POP-UP Laptop Kickstand | Silver
✓ 7-day returns
✓ secure checkout
✓ 5-10 business days to delivery
✓ free shipping for all order
Portable Ergonomic Pop-Up Leg Stand for Laptop
Thanks to the built-in spring, here is the unbelievable pop-up laptop stand, just a click, kickstand flick in 0.1s. Super portable, carry it around with you anywhere anytime, no need to pack anything extra.

Not only portable, they are also highly sturdy and minimally intrusive, you can't even feel it until you noticed there were no more overheating or fans noise. Since it won't block heat releasing, instead, it increases the air circulation.

With ergonomic design, no more pain from wrist, shoulders, neck for continuous typing and watching, since the stand brings the ideal eye-level height for optimum posture.

built-in spring, pop up, eyes free, easily folded
mini size, light weight, convenient to install and use, take it anywhere
solid material, with anti slip pad, super sturdy
high-quality adhesive, no falloff
stylish design, PU surface, gentle touch
round smooth edge, won't scratch or dent anything
wide compatibility, use it on anything you want
Product Dimensions:
Size: 3.15*0.79*0.16 inches
Weight: 1.4oz/40g/each
Material: Zinc alloy & PU Leather surface
Load: maximum 5KG
Tilt: 18-degree
Lift: 2.0 inch

What's in the Box:
Pop-up Leg Stand * 2
Anti-slip Rubber Pad * 2
Install Ruler * 1
Compatibility:
laptop: 11.6-20 inches, buy 2pack for laptop
phone, e-reader, tablet.
Nowadays, laptops have become slimmer and more portable, we carry them around much more often, work on it in the cafes, offices, home, even on a train, car, or plane. While typing or watching for a long time, our wrists, neck, shoulders get painful. So aulumu wants to design an ergonomic laptop stand which can effectively relief those body pains and can easily take away to work anytime anywhere without any inconvenience.

This is G07, the aulumu pop-up laptop stand.

First of all, it is small and lightweight as much as possible, but still strong and sturdy. To achieve this goal, we have done thousands of experimentations with different materials and shapes, things finally felt right. We chose zinc alloy as main material, come with a piece of anti-slip pad to get the best stability. Mini size, strong support, no shaking or slip at all.

But that's not enough, it should be convenient, and least intrusive. We set 2 built-in springs, so it can be opened and folded automatically, no need to turn devices around, totally eyes-free. And with the built-in spring, the stand pops up very fast, only 0.1s. Eyes-free operation, fast pop up, the stand looks like it's born with a laptop, but not added later.

For the outlooking, still aulumu style, ninja black surface with silver pattern, orange line and pixel fonts, edges are slim and corners are round, looks elegant and energetic. And to make it more exquisite, we use PU on the surface, every time you use G07 laptop stand, you can feel the soft and warm, instead of hard and cold from metal.
Great Heat Dissipation
Without blocking of the air outlet, with the forward-tilt angle, airflow increased greatly, keep your laptop running cooler.
No more overheating and fans noise.
Instantly Pop-Up
Click and pop open in 0.1s, close without turning laptop around. Super easy and convenient to use.
Built-in high quality springs, make this one-of-a-kind laptop kickstand.
Simplified Design
Mini size and light weight, adhesive on the back of your laptop, take it anywhere without extra pack.
Size: 3.15*0.79*0.16 inches
Weight: 1.4oz/40g/each
Least intrusive.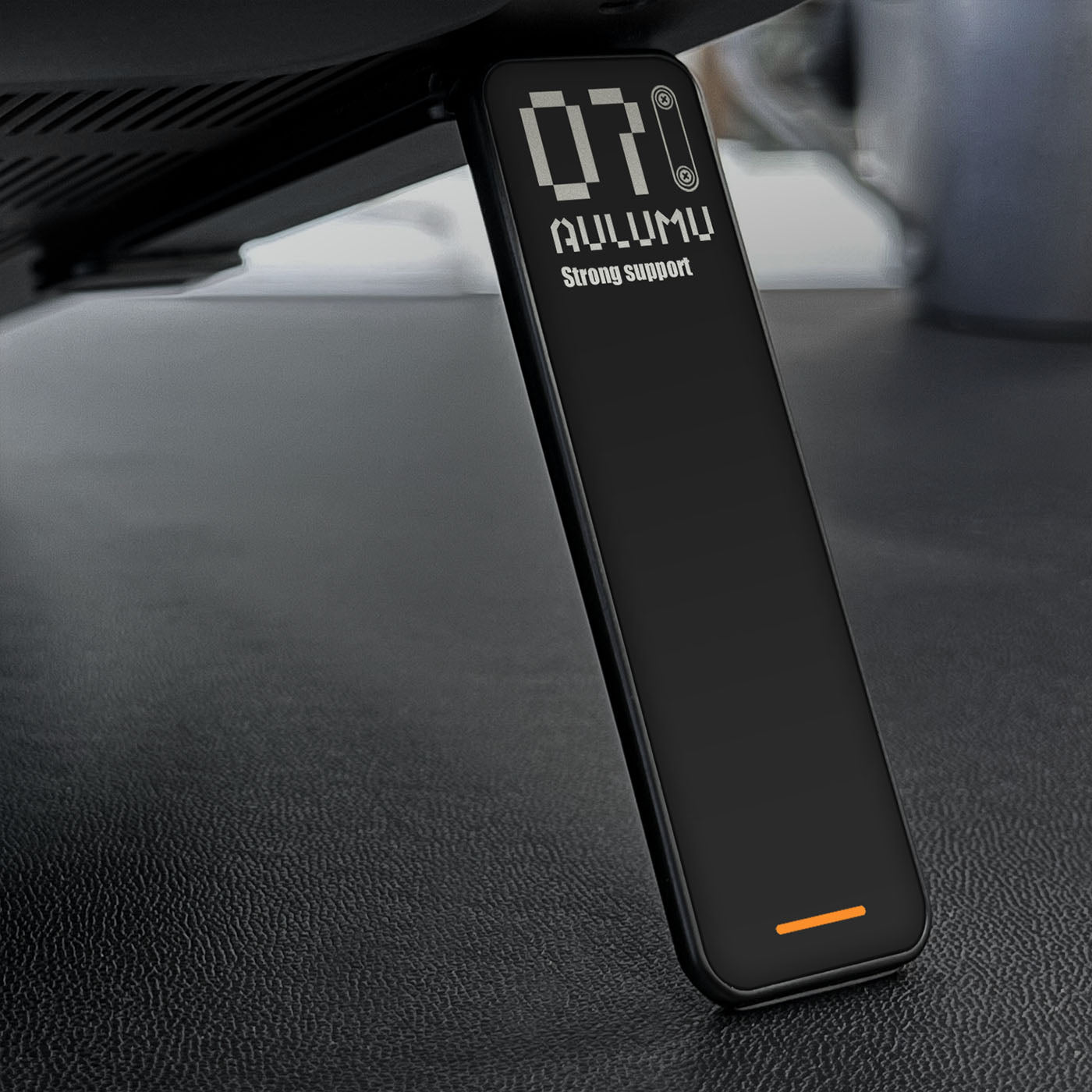 EXQUISITE PU SURFACE
Better Tactile Feel
A whole PU leather on the surface of the kickstand. With the exquisite PU, every touch while you open and close the stand is soft and warm, not cold and hard from metal.
BUILT-IN QUALITY SPRINGS
Longer Lifecycle
2pcs durable and solid carbon steel springs on this mini stand, one is on the bottom and the other is on top. Both of them make G07. With long time open & close test, its working time up to 30000 times.
Not One Time Use
Reuse on Other Devices
Easily
Install & Reuse
Remove the blue release paper on the back of the stand
Stick it on the back of the laptop. Please kindly make sure to get them parallel to each other and the edge.
Remove stand from laptop and clean adhesive on them.
Stick with new original adhesive, get new stand.
Stick the 2pcs inclued anti-slip rubber pad on the bottom of laptop for better friction if necessary.
WHAT'S IN THE GIFT BOX
Great Gift Choice
Pop-up Leg Stand * 2
Anti-slip Rubber Pad * 2
Install Ruler * 1
For clean removal without damaging your attached device, use a sturdy enough string (like floss) to cut the foam tape that secures the leg and device (after getting half way, the rest can be laterally twisted off).
Once separated, pull any remaining foam tape laterally for easier removal (afterwards, any remnant bits can be rubbed off with a paper towel pretty easily).
Then you can stick the new foam tape which you can get from aulumu website, and re-attach the kickstand.
You can get the adhesive pack from our website, and easily reuse it on other devices
The small silicone pad is a non-slip pad, you can stick it on the bottom of the back of laptop to increase friction. Use the kickstand on a smooth table.
Yes, it can support up to 5kg weight, works great with 16'' MacBook Pro and other devices.